Tune Belt AB83 Sport Armband voor Grotere Smartphones
Artikelnummer: AB83
Product referentie: 26604
Deze lichtgewicht en comfortabele armband is gemaakt voor grotere smartphones en/of beschermhoesjes van 11.4 - 12.7 cm lang
"Handig hebbedingetje"
"perfect voor buitensport"
Meest behulpzame reviews
24 februari 2012
Handig hebbedingetje
Ideaal voor in de sportschool en outdooractiviteiten. Dit brengt zijn geld wel op.
Van den Wyngaerde Frederik
Unknown
samsung s advance
29 augustus 2012
perfect voor buitensport
De werking van het touchscreen blijft goed. Hoewel de band bij zweten kompleet nat kan worden, blijft je toestel kurkdroog. Aansluiten van de headset gaat gemakkelijk en er is een velkro voorzien om het teveel aan kabel in vast te zetten. Alles opgeteld is dit een goed product.
22 Reviews
|
Schrijf een review
---
Waarom kopen?
Lichgewicht, flexibele neoprene constructie
Ontworpen voor moderne smartphones met een groot scherm
Volledig verstelbare armband
---
Aanvullende informatie
Lichtgewicht, flexibel neoprene constructie
De Tune Belt sport armband is gemaakt van een sterk en duurzaam, maar toch zeer flexibel en zeer lichtgewicht neopreen, en dus de perfecte metgezel voor het sporten met je moderne smartphone. Dankzij de voering is de armband erg comfortabel om te dragen, ongeacht de grootte en de vorm van je telefoon. Het plastic dat de voorkant van je telefoon bedekt laat je nog steeds volledig gebruik maken van je touchscreen, zelfs terwijl de telefoon in de armband zit. Er zitten drie gaten aan de onderkant van het zakje, zodat je je hoofdtelefoon nog steeds kan aansluiten en naar muziek kan luisteren tijdens het sporten.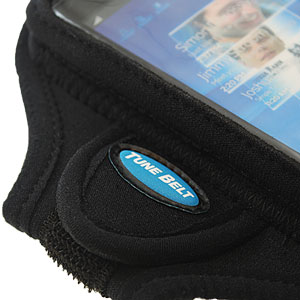 Ontworpen voor moderne smartphones met een groot scherm
De huidige trend voor smartphones is een hoge resolutie en grote schermen. Met de Tune Belt AB83 hoef je je telefoon er niet in de proppen, aangezien de armband speciaal is gemaakt voor apparaten met een maximale omtrek van 16.5 cm en een maximale hoogte van 12.7 cm. Of je nu wilt gaan rennen met je iPhone 4 in case, of je HTC HD7, de Tune Belt AB82 is groot genoeg.
Volledig verstelbare armband
Voor ultiem comfort, is de Tune Belt AB83 een volledig verstelbare armband, met een veilige klittenbandsluiting geschikt voor arm maten van 23 tot 43 cm.