Meest behulpzame reviews
Henny
Winterswijk
HTC One X
12 September 2012
eenvoudig goed...
sinds een paar weken de Jay's One + in bezit en ze kunnen concureren met mijn toch al belegen Shure's E4.De eenknopsbediening werkt ,samen met de app van Jay eenvoudig goed.Het geluid is helder ,ook de midden tonen en een heldere bas.De spraak is goed te verstaan en je bent zelf ook goed te horen.De platte kabel is inderdaad antiknoop en de afwerking is netjes. Dus een hele goede vervanger voor de meestal belabberde oordopjes die de meeste fabrikanten er bij leveren,en de service van Mobilefun gewoon goed (volgende dag in huis).
34 Reviews
|
Schrijf een review
---
Waarom kopen?
Ingebouwde microfoon om gesprekken te voeren
Afstandsbediening voor volledige controle over je muziek
Werkt met de meeste BlackBerry, Samsung, HTC, Motorola en Apple toestellen
Wordt geleverd met verschillende oordopjes voor maximaal comfort
---
Wat zit er in de doos?
a-Jays One+ oortelefoontjes
5 x verschillende maten dopjes
---
Aanvullende informatie
a-Jays One+ heeft een 8.6mm dynamic speaker gemaakt door JAYS. De perfecte partner om onderweg van muziek te genieten aangezien het omgevingsruis blokkeert. De a-Jays One+ is ideaal voor gebruik als je buiten op pad bent met je MP3 speler of telefoon. Dankzij de afstandsbediening en microfoon blijf je beschikbaar en volledig in controle met slechts een vingerbewegingen.
Ingebouwde microfoon
Met de afstandsbediening met ingebouwde microfoon kan je gesprekken aannemen / ophangen en muziek afspelen / pauzeren. De afstandsbediening werkt met je eigen music library maar ook met gestreamde muziek / video via je smartphone apps zoals Spotify en YouTube. Je kan ook gesprekken bedienen in programma's als Skype en iChat.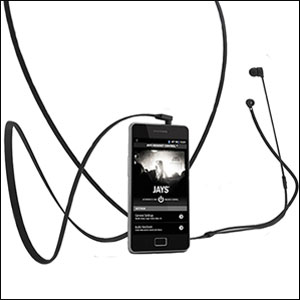 Handsfree functionaliteit compatibel met Android telefoons
Als je een Android smartphone hebt kan je extra functionaliteit aan je a-JAYS One+ headset toevoegen door de android application JAYS Headset Control te downloaden. Je kan meer over deze app lezen en hem gratis downloaden op jays.se/android.

Met de JAYS headset control app voor Android transformeer je je a-JAYS One+ in een volledig aangepaste multifunctionele feature control. Afspelen / pauzeren, volume aanpassen, van nummer wisselen, oproepen beheren en nog veel meer in één app. En dit allemaal met een simpele druk op de knop van de headset. Je kan verschillende taken opzetten in de app, die afhangen van het aantal drukken op de headset knop. De app blijft runnen op de achtergrond zodat je hem kan installeren, personaliseren en er daarna nooit meer over na hoeft te denken.


Universele compatibiliteit
De afstandsbediening en microfoon van de a-JAYS One+ werken met de meeste HTC, Samsung, BlackBerry, LG, Motorola en Apple toestellen. Functies kunnen variëren per toestel en model. De afstandsbediening en microfoon zijn ook compatibel met de meeste applicaties zoals VOIP, Skype, iChat en andere opname software zoals voice memo.
Verschillende maten oordopjes voor ultiem comfort
De a-JAYS One+ wordt geleverd met 5 paar verschillende silicone dopjes in de maten XXS tot L. Hierdoor ben je zeker van een natuurlijke, comfortabele pasvorm, en maximaal extern geluid insulatie. Gebruik het doosje wat wordt meegeleverd om je silicone dopjes te bewaren als je ze niet gebruikt, of om ze onderweg te beschermen.
Specificaties:
Driver:
Type: 8.6 dynamische luidspreker
Gevoeligheid: 95 dB @ 1 kHz
Impendance: 16 Ohm @ 1 kHz
Frequentiebereik: 20 Hz - 18.000 Hz
Oordopjes:
Kleur: Zwart
Isolatie:-40dB @ 2 kHz
Afmetingen: 18,3 x 11,8 x 13.8mm
Gewicht 14g
Koord:
Type: TPE beklede platte wirwar aan kabels
Lengte: 115cm
Maat: Breedte 5 mm / dikte 1,2 mm
Plug: L-vormige, Silver-plated 3,5 mm stereo plug
Afstandsbediening:
Controls: 1 knop op afstand
Mic: Ja