Choetech Universal 65W PD GaN Travel Charging Adapter With 2 USB-C Ports - Black
With 4 different built-in plug types; UK, USA, Europe, AUS & China and 2 USB-C ports, this compact but powerful PD 65W travel charger from Choetech is the perfect companion for you wherever in the world you may be travelling to. Never run out of power!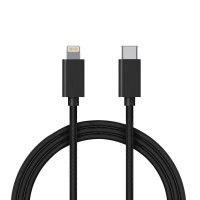 12,99€
Originele prijs
17,49€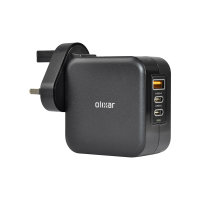 29,49€
Originele prijs
34,99€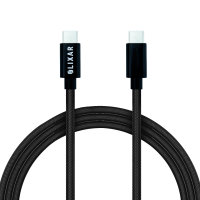 11,99€
Originele prijs
17,49€
Key Features
What is GaN and why do you need it?
Perfect travel accessory
Designed to be used around the world
Comes with 2 USB-C ports and 1 USB-A port
Multi-region adapter for mains devices
Omschrijving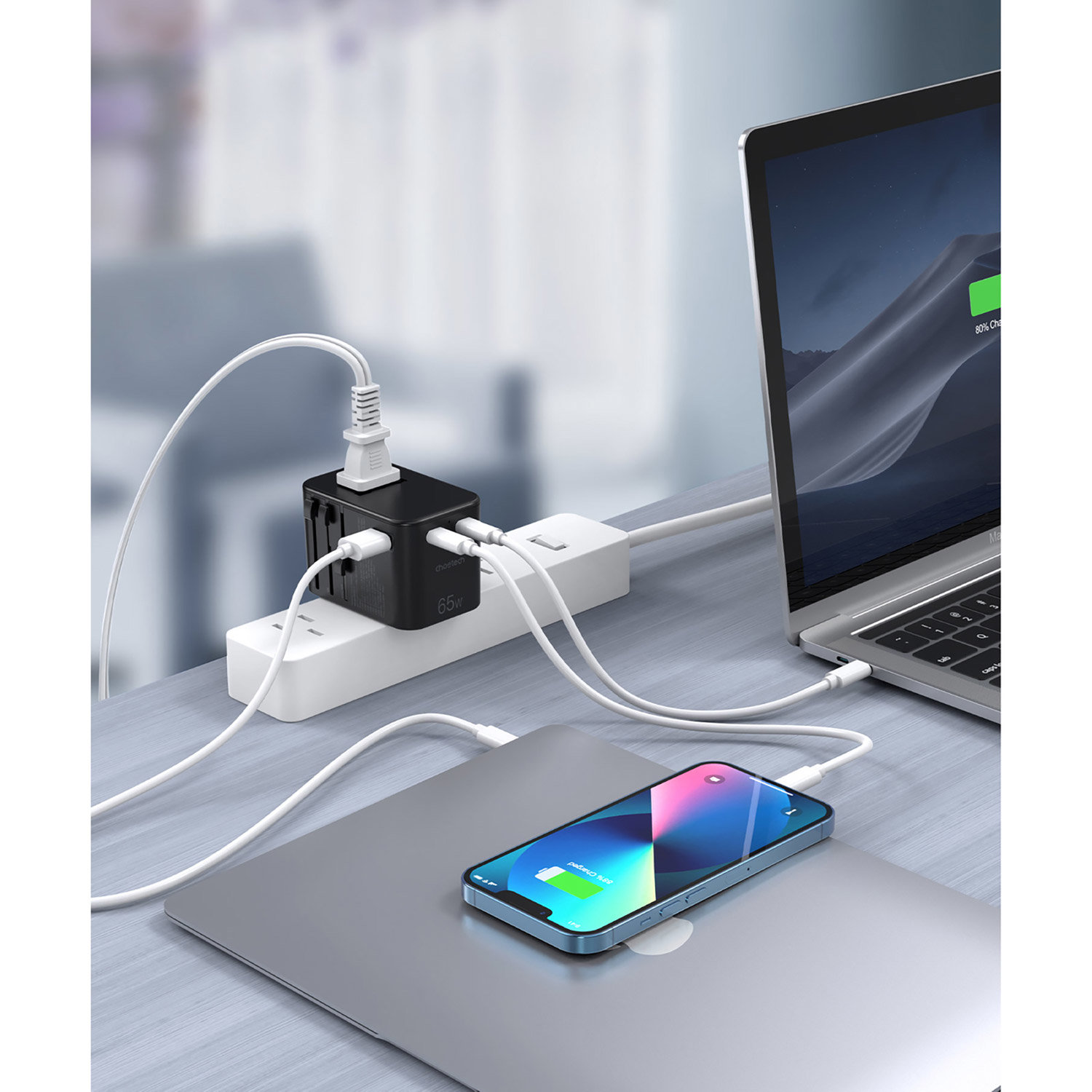 A charger that not only powers your phone but also your tablet or laptop and can charge three devices at once? It has to be Choetech 65W PD GaN travel charging adapter! This wall charger has three built-in ports: two USB Type C (max 65W) and a USB (max 30W). When you connect your devices to all ports, the Choetech travel adapter will charge them with a combined power of up to 60 watts. With GaN components, the charger is efficient, powerful and fast. The Choetech travel adapter supports Power Delivery fast charging standards. It will not be intimidated by any challenges!
What is GaN and why do you need it?
Gallium nitride, or GaN, is a material that is becoming more and more common in the semiconductor industry. In the early 90s, it was used to make LEDs and is still today often used to make solar cell arrays on satellites - basically, GaN is your go-to for great energy-efficient tech'. The main reason engineers love GaN is because not only is it capable of producing higher outputs of energy, it also produces less heat. This is vital because less heat means internal components can be closer together, so your charger can now be made smaller than ever before, whilst maintaining all - if not tonnes more - of the power capabilities. GaN is also rigorously safety tested - meaning not only are you getting a super-fast efficient charger but a safe one too!
Perfect travel accessory
Designed for easy use and convenience, the Choetech adapter allows you to charge any device from just one main power socket no matter where in the world you are. Don't get caught out in your travels anymore, with Choetech you can rest assured that with one adapter you can jett off to any part of the world and you will always be able to charge your devices.
Designed to be used around the world
For those who are constantly on the go and travelling, the Choetech Universal adapter is the perfect travel accessory. With an extremely slim design that is combined with interchangeable UK, US, EU, AUS and China plug heads, the Choetech Adapter is the only travel adapter you will ever need.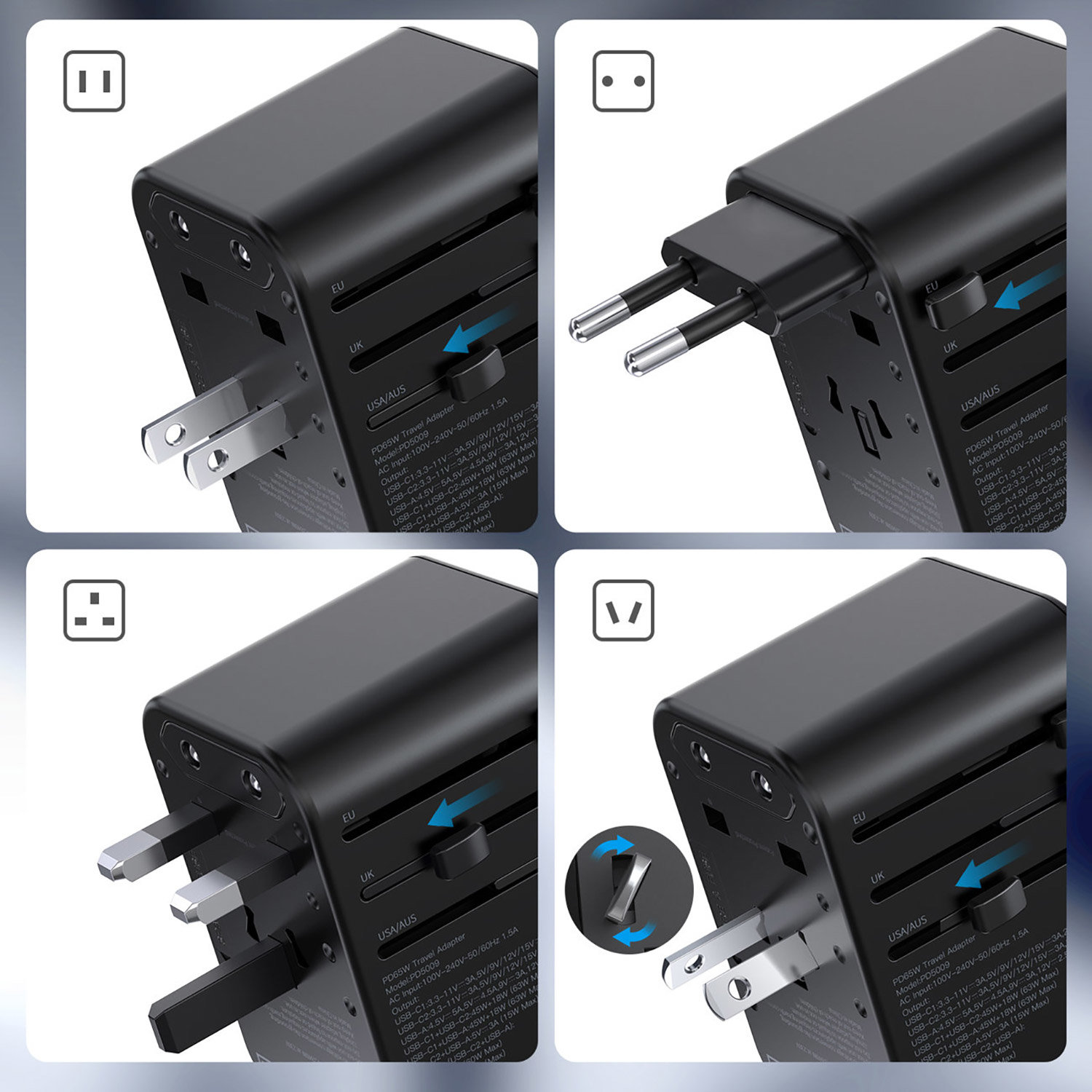 Comes with 2 USB-C ports and 1 USB-A port
Not only do you get instant charge no matter what part of the world you travel to, but you can also charge 3 devices simultaneously due to the 2 in-built USB-C ports and 1 USB-A port in this adapter. It is a must-have on your travels.
Multi-region adapter for mains devices
Not only is the Choetech a super-handy travel plug for your smartphone and tablet, but it is also an adapter socket for your laptop, toothbrush, or any other mains-charged device. Whatever you might need to charge, you can use do it easily with the Choetech adapter.
Specifications:
Model: PD05009
Ports: USB, 2 x USB Type C
Input: AC 100-240V 50/60Hz 1.5A
Output: USB - 4.5V / 5A, 5V / 4.5A, 9V / 3A, 12V / 2.5A, 20V / 1.5A (maximum output up to 30W); USB Type C1 and C2 - 3.3V - 11V / 3A, 5V - 15V / 3A, 20V / 3.25A (maximum output up to 65W); USB Type C1+C2 - 63W Max; USB Type C2 + USB - 15W Max; USB Type C1 + C2 + USB - 60W Max
Dimensions: 114 x 35 x 114 mm (L, W, H)
Color: black
Je Gegevens
| | |
| --- | --- |
| Onderdeel nr | PD5009-BK |
| UPC | 6932112102027 |
| Mobile Fun | 90217 |
| Filter op kleur | Zwart |
| Brand Name | Choetech |
Levering & Retouren
Standaard levering: 4,50 €
Een voordelige ongetraceerde optie met goede prijs-kwaliteit verhouding, geschikt voor bestellingen die minder dringend zijn. Geschatte levertijd is 4 tot 8 werkdagen.


DHL Express: 24,00€
24 uur. Bijgehouden service met trackingnummer. De DHL Express optie wordt standaard geselecteerd voor bestellingen van meer dan 60 euro. DHL levert niet in het weekend, bestellingen geplaatst op vrijdag worden maandag bezorgd.
Als je bestelling minder dan € 150,- exclusief verzendkosten is, dan is de btw al inbegrepen in de prijs die je betaalt bij het afrekenen. Dit betekent dat er geen btw over de betaling verschuldigd is wanneer uw bestelling bij u wordt afgeleverd. Als uw bestelling hoger is dan € 150, wordt er geen btw in rekening gebracht bij het afrekenen en ontvangt u deze dus als een apart te betalen bedrag, op basis van uw lokale btw-tarief.