Nanoleaf Aurora Smarter LED Expansion Pack - 3 Smart Panels
This expansion pack for the Nanoleaf Aurora Smarter LED Panel Kit contains 3 additional panels to help you realise even more wild and wonderful lighting ideas. No extra power supply necessary - simply plug these LEDs into your Nanoleaf Aurora and enjoy.
Verzending en Bezorging:

Snelle en veilige verzending beschikbaar
Snel en eenvoudig retourneren 30 dagen
Gratis bezorgmethode
Beveiligde betaling met 256-bit-codering
Klantenservice beschikbaar
Meld u aan voor een zakelijk account
Waarom kopen?
Expansion pack adds three panels to your Nanoleaf Aurora
Customise and create the perfect mood
Voice Control
Nanoleaf Smarter Series App
Easy to use controller
Drill-free installation
Chain expansion panels together
Omschrijving
Please note: Nanoleaf Aurora panel kit not included.
Expansion pack adds three panels to your Nanoleaf Aurora
Got the perfect arrangement in mind for your Nanoleaf Aurora Smarter LED Kit, but just don't have enough panels? Never fear. This expansion pack contains three extra LEDs to help you expand Aurora and realise the sprawling visual masterpiece contained within your mind. Aurora's modular design allows for multiple expansions to be chained, too, so the limit is your imagination.
Customise and create the perfect mood
Once you've built your pattern, customise further by creating stunning lighting scenes and animations to set the mood and aura within the room. With 16.7 million colours to choose from, the Aurora Smarter Kit Expansion Pack will help you set even more unique scenes and is perfect to create a relaxed, happy or productive atmosphere.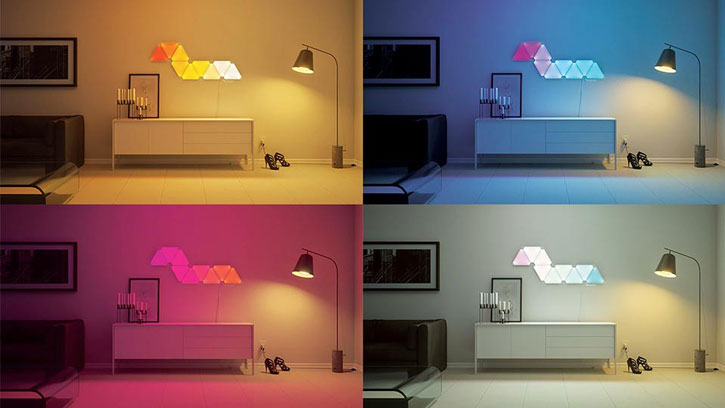 Nanoleaf Smarter Series App
Available to download for free from the App Store (iOS) and Google Play Store (Android), the Smarter Series App opens up a world of customisation, enabling you to choose from a extremely wide range of colour options to paint your panels with, in addition to changing the speed and brightness of the panels. Through the app, you'll even be able to create and save time triggers, to turn lighting scenes on and off automatically.
As a hub is not required, connection via WiFi will have you customising your Aurora within seconds.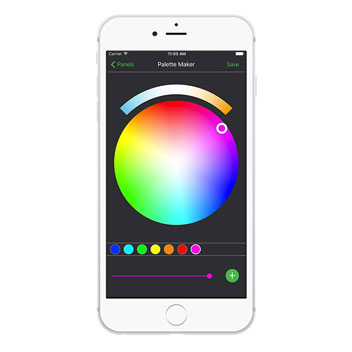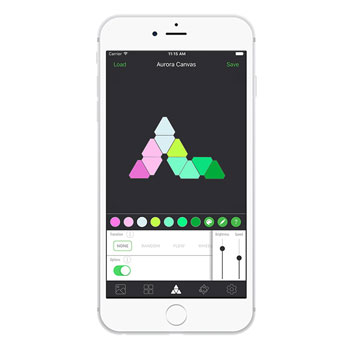 Voice Control
Compatible with Siri on iOS and Amazon Alexa, controlling Aurora is seamless. Simply tell your smartphone what to do and watch the scene change in your room, within a matter of seconds.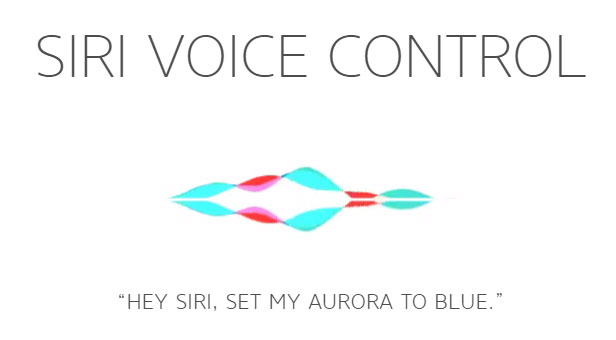 Easy to use controller
As Aurora features it's own controller unit, you're not limited to only having to use a smartphone to control it. With a power button, pre-loaded scenes and the option to select saved scenes, controlling Aurora is made simple.
Drill-free installation
Installation is made simple with the included mounting strips, stencils and panel connectors. As all mounting has been designed to be drill-free, attaching the Aurora Smarter Kit Expansion Pack with the included mounting strips ensures damage to your wall is minimised and means creating new designs or re-locating Aurora is problem free.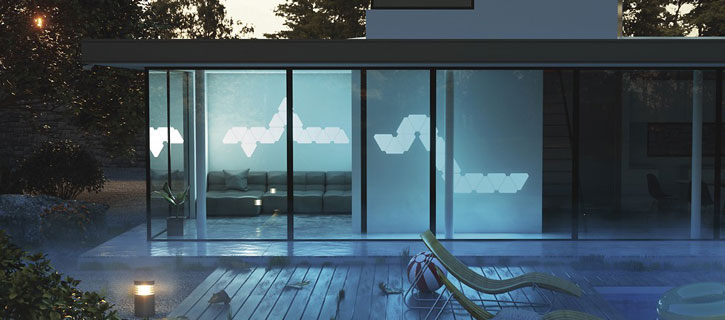 Chain expansion panels together
Of course, you don't have to stop at three extra panels. Aurora supports up to 30 panels on the same power supply and controlled by the same app, so those epic visions don't have to stay visions for long. From vast mountains to art-deco cityscapes, anything is possible with Aurora.
Je Gegevens
| | |
| --- | --- |
| Onderdeel nr | NL22-0001TW-3PK |
| UPC | 0740016550983 |
| Filter op kleur | Wit |
Bezorging & amp; uitslagen
Verzending via Standaard Post: 0 euro
Een voordelige ongetraceerde optie met goede prijs-kwaliteit verhouding, geschikt voor bestellingen die minder dringend zijn. Geschatte levertijd is 4 tot 8 werkdagen. Het aantal werkdagen gaat in 1 dag na de verzending.
Verzending via tracked mail service : 7,49 euro
Geschatte levertijd is 3 tot 4 werkdagen. Het aantal werkdagen gaat in 1 dag na de verzending.
DHL Express: 12,50 euro
De DHL Express optie wordt standaard geselecteerd voor bestellingen van meer dan 60 euro. DHL levert niet in het weekend, bestellingen geplaatst op vrijdag worden maandag bezorgd.
Een snelle getraceerde bezorgservice die levert in slechts 24 uur.
Gegarandeerde bezorging 24 uur na verzending.