Natural Therapeutic Himalayan Rock Salt Plug in Lamp
Feel better with this 100% natural Himalayan Rock Salt light. Once plugged in, the gentle glow provides a tranquil & calming environment to help you sleep better, whilst the heated salt will help improve not only the air quality, but also your mood!
Key Features
Natural Himalayan rock salt lamp
Tranquil & relaxing light
Purifies the air
Improves sleep, blood flow, serotonin and air quality
Reduce stress and increase performance
Includes an E14 bulb
Omschrijving
Get more from your light with this Himalayan Rock Salt plug in light. This beautiful light creates a tranquil, relaxed vibe to your home due to the gentle glow it provides. If the dim light wasn't enough to make you feel relaxed, the negative ions that are released as the rock salt heats up certainly will help - these help increase blood flow & serotonin, as well as actually helping to minimise allergy symptoms! As more people work from home and more time is spent at home, finding useful ways to mitigate stress and tension is extremely important, and this Himalayan rock salt light certainly does that.
Natural Himalayan rock salt lamp
This lamp is made from completely 100% pure and high-quality natural Himalayan rock salt. As it is made from 100% natural rock salt, the lamp you purchase will be completely unique to you.
The lamp works by drawing water molecules from the air to the surface of the salt rock lamp. As the lamp is warmed up, inside a subtle chemical reaction takes place, generating healthy negative ions, which are then released into the air counteracting the positive ions. The air then becomes purified.
Tranquil & relaxing light
This light can be used in an office if working from home to provide a tranquil working from home experience or it can be used in the bedroom as a night light - where ever you want to use it to bring some peace and tranquillity to your life, you can. Simply plug it in and as the salt heats up, feel your troubles and stress melt away with the increased serotonin and improved air quality.
Improves sleep, blood flow, serotonin and air quality
The Himalayan Salt lamp naturally helps in improving your indoor air quality, by creating healthy negative ions. This improvement of air quality is extremely important, as so many products we use now give off radiation and other unhealthy chemicals that can increase our stress and make it harder to focus.
Not only does it improve your air quality, as it heats up, the release of negative ions can boost blood flow, improve sleep, increase serotonin levels and even calm allergy and asthma symptoms! As we come up to summer and allergy season hits, using products such as this is even more important.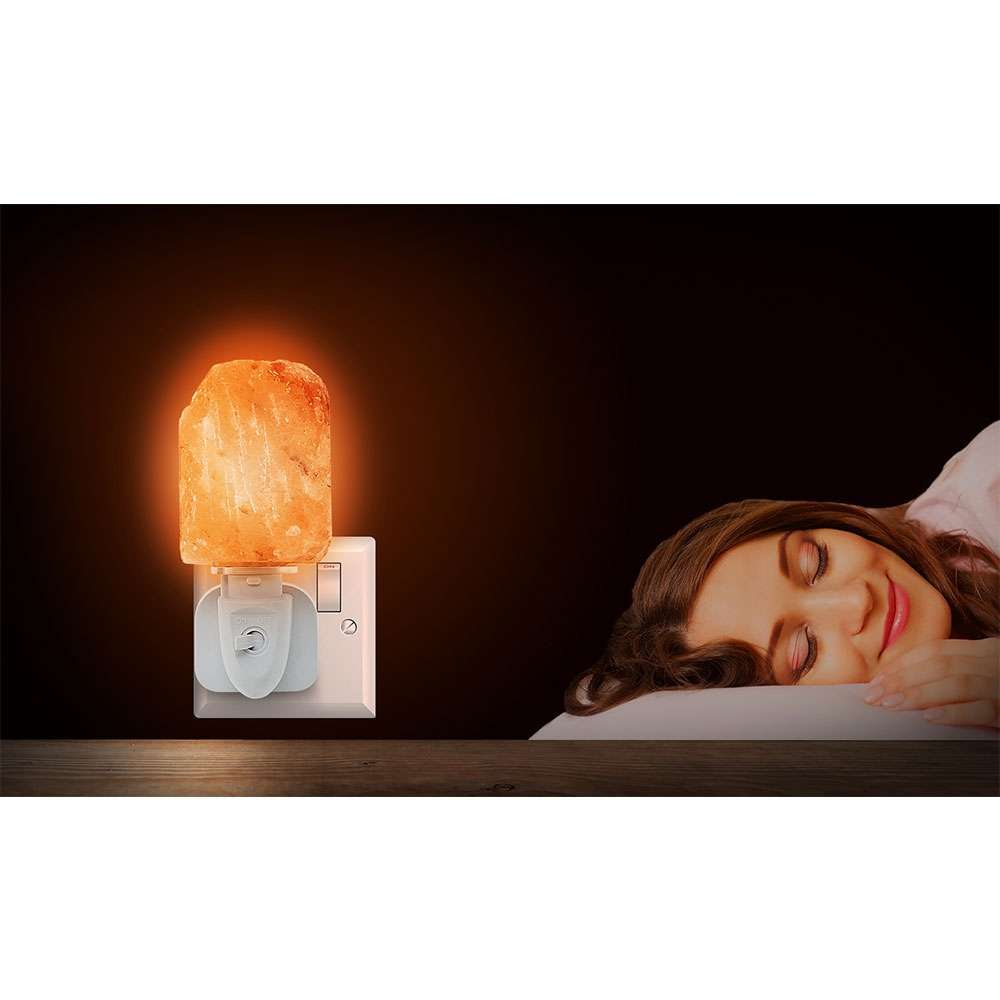 Given many people are now working from home and potentially working in their bedroom, sleep quality is likely to be suffering and with this simply Himalayan salt lamp, this can be improved exponentially due to the relaxing light it provides and the negative salt ions it releases. Feel better with this stunning, 100% natural light from Aquarius.
Reduce stress and increase performance
Life can be stressful and finding ways to cope with that stress isn't always easy, especially if that stress is coming from your external environment. However, this rock salt light provides a perfect calming effect to the body and your environment - allowing you to destress, focus more and perform better.
Includes an E14 bulb
This product comes with the bulb, meaning that there's no extra purchases to be made. All you have to do is screw in the bulb, plug the lamp in and relax.
Je Gegevens
| | |
| --- | --- |
| Onderdeel nr | HAPIHNL |
| UPC | 5056184017414 |
| Mobile Fun | 84649 |
| Filter op kleur | Orange |
| Brand Name | Mobile Fun |
Levering & Retouren
Standaard levering: 4,50 €
Een voordelige ongetraceerde optie met goede prijs-kwaliteit verhouding, geschikt voor bestellingen die minder dringend zijn. Geschatte levertijd is 4 tot 8 werkdagen.


DHL Express: 24,00€
24 uur. Bijgehouden service met trackingnummer. De DHL Express optie wordt standaard geselecteerd voor bestellingen van meer dan 60 euro. DHL levert niet in het weekend, bestellingen geplaatst op vrijdag worden maandag bezorgd.
Als je bestelling minder dan € 150,- exclusief verzendkosten is, dan is de btw al inbegrepen in de prijs die je betaalt bij het afrekenen. Dit betekent dat er geen btw over de betaling verschuldigd is wanneer uw bestelling bij u wordt afgeleverd. Als uw bestelling hoger is dan € 150, wordt er geen btw in rekening gebracht bij het afrekenen en ontvangt u deze dus als een apart te betalen bedrag, op basis van uw lokale btw-tarief.