Olixar Smart Loop Universele Smartphone Houder & Stand Kit
De Olixar Smart Loop Houder & Stand Kit is de ultieme all-in-one bureaustand, autohouder, en rugsteun houder. Bovendien maakt het ook het vasthouden van je telefoon veiliger.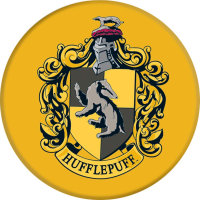 9,49€
Originele prijs
12,99€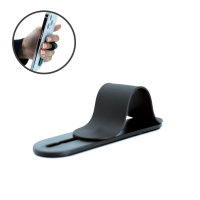 8,49€
Originele prijs
11,99€
Key Features
"One ring to rule them all"
Te gebruiken als vinger lus voor extra veiligheid
Te gebruiken als handige media stand
Bruikbaar als dashboard autohouder
Bruikbaar als hoofdsteunhouder
Te gebruiken als stand voor op het bureau
Compleet compatibel met hoesjes
Omschrijving
"One ring to rule them all"
Bij Mobile Fun zijn wij allemaal in de ban van de ring - de Olixar Smart Loop, wel te verstaan. Deze compleet case-compatibel opvouwbare ring kan om je vinger gedragen worden voor een betere grip op je smartphone, op je dashboard vastgezet worden, op de hoofdsteun van je auto gehaakt worden om door je passagiers bekeken te worden of in de meegeleverde opplakbare bureau houder geplaatst worden. Je kunt zelfs de Smart Loop zelf als een stand gebruiken voor gebruik in landschapmodus. De Smart Loop Kit is echt "one ring to rule them all". Plaats de Loop achterop je telefoon of je telefoonhoesje met het herbruikbare plak gedeelte en je hebt in één klap een modulair systeem voor het meedragen, vastzetten en gebruiken van je telefoon in meerdere situaties.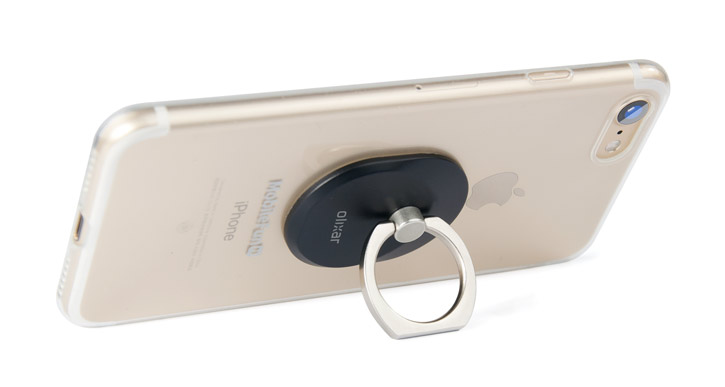 Te gebruiken als vinger lus voor extra veiligheid
De Smart Loop is op meerdere ingenieuze manieren te gebruiken. De ring zelf is vrij plat met een dikte van 3 mm, hierdoor kun je deze gemakkelijk opvouwen wanneer je deze niet gebruikt. Als je de ring wel wilt gebruiken dan doe je deze simpelweg om je vinger om zo een extra veilige grip op je telefoon te hebben. Niet alleen heb je zo meer zekerheid dat de telefoon niet zal vallen maar deze kan ook niet uit je handen gegrist worden. Hierdoor ben je veilig tegen schade en diefstal, dat is het mooie aan de Smart Loop. Bovendien is het op deze manier gemakkelijker om met het scherm van je telefoon te gebruiken omdat je deze minder stevig vast hoeft te houden en zo makkelijker kan manoeuvreren.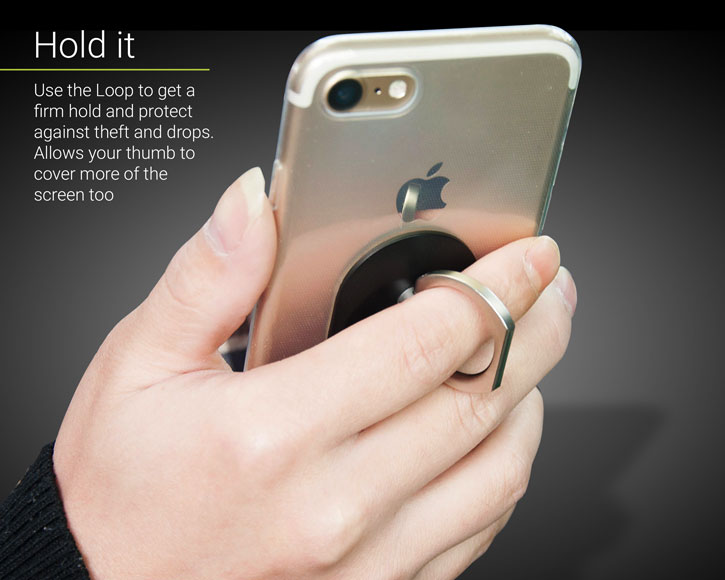 Te gebruiken als handige media stand
Dankzij het opvouwbare systeem kun je de Smart Loop omtoveren tot een handige media stand voor je smartphone in enkele secondes. Het draagbare ontwerp is perfect voor forenzen om snel en makkelijk op te zetten en op te bergen. Maar ook als je niet veel onderweg bent is deze stand ideaal voor het kijken van video's of het lezen van eBooks, recepten of surfen op het web. Je kunt deze functie dus perfect gebruiken op werk, thuis of onderweg.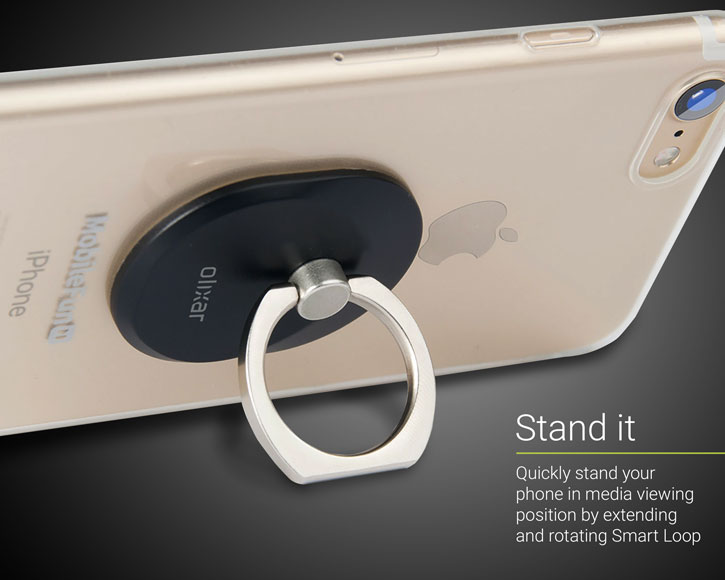 Bruikbaar als dashboard autohouder
De kit beschikt over een opplakbare haak die je gemakkelijk vast kan maken aan de dashboard van je auto. Als deze op zijn plek zit kun je de Smart Loop hier gemakkelijk omheen haken zodat je een simpele en veilige autohouder hebt die in no time klaar voor gebruik is. De Smart Loop kan volledig ronddraaien om zo de perfecte kijkhoek voor tijdens het rijden te creëren. Tevens kun je de docking stand op het dashboard gebruiken om zo je telefoon verhoogd te plaatsen.
Bruikbaar als hoofdsteunhouder
De Kit komt niet alleen met een meegeleverde dashboard houder maar ook met een hoofdsteunhouder. Deze haak je simpelweg om één van de paaltjes van de hoofdsteun en je hebt een haak waaraan je de Smart Loop kunt bevestigen. Hiermee kun je een passagier op de achterbank, zoals bijvoorbeeld een kind op een lange reis, vermaken.
Te gebruiken als stand voor op het bureau
Tenslotte beschikt de Kit ook over een stevige bureauhouder. De plakkerige basis kun je gebruiken om deze vast te zetten op bijvoorbeeld een bureau of op een tafel mocht je dit willen of je kunt deze gewoon los gebruiken. In de stand bevind zich een opening waarin je de Smart Loop plaats voor een beweegbare bureau stand. In tegenstelling tot de Smart Loop zelf wordt hiermee de telefoon verhoogt. Het mooie van de Smart Loop is dat je te allen tijde over al deze opties beschikt en snel kunt wisselen tussen de verschillende accessoires.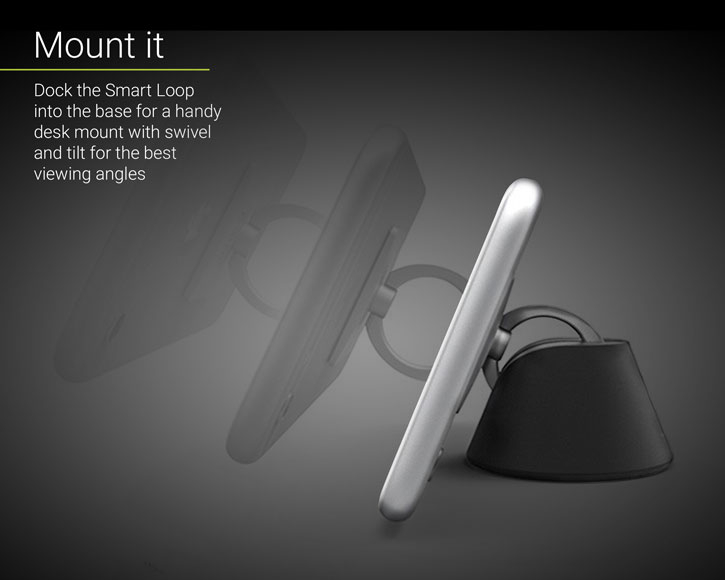 Compleet compatibel met hoesjes
Met de Smart Loop hoef je geen gedag te zeggen tegen je telefoonhoesje omdat deze kit perfect werkt met cases ongeacht hoe groot of stevig ze zijn! Je hoeft dus geen compromis te sluiten tussen bescherming en praktisch nut. Je hebt enkel een vlak deel van 45 x 35 mm nodig om de Smart Loop te bevestigen.
Wat zit er in de doos?
Smart Loop
Dashboard / muur houder haak
Hoofdsteun houder haak
Bureau / dashboard stand docking base
Je Gegevens
| | |
| --- | --- |
| Onderdeel nr | olx-62078 |
| UPC | 5055401738644 |
| Mobile Fun | 62078 |
| Filter op kleur | Zilver, Zwart |
| Brand Name | Olixar |
Levering & Retouren
Standaard levering: 4,50 €
Een voordelige ongetraceerde optie met goede prijs-kwaliteit verhouding, geschikt voor bestellingen die minder dringend zijn. Geschatte levertijd is 4 tot 8 werkdagen.


DHL Express: 24,00€
24 uur. Bijgehouden service met trackingnummer. De DHL Express optie wordt standaard geselecteerd voor bestellingen van meer dan 60 euro. DHL levert niet in het weekend, bestellingen geplaatst op vrijdag worden maandag bezorgd.
Als je bestelling minder dan € 150,- exclusief verzendkosten is, dan is de btw al inbegrepen in de prijs die je betaalt bij het afrekenen. Dit betekent dat er geen btw over de betaling verschuldigd is wanneer uw bestelling bij u wordt afgeleverd. Als uw bestelling hoger is dan € 150, wordt er geen btw in rekening gebracht bij het afrekenen en ontvangt u deze dus als een apart te betalen bedrag, op basis van uw lokale btw-tarief.