RAC R3000 Premium 1080p HD Dash Cam - Black
The RAC R3000 is a premium Dash Cam which will provide you with peace of mind while driving. It's high-quality large screen combines with a wide range of high-end features and a premium design at an affordable price to make this a must for all drivers.
12,99€

BTW inbegrepen

adviesprijs 16,99€Je bespaart24%
---
23,49€

BTW inbegrepen

adviesprijs 31,99€Je bespaart27%
Verzending en Bezorging:

Snelle en veilige verzending beschikbaar
Snel en eenvoudig retourneren 30 dagen
Gratis bezorgmethode
Beveiligde betaling met 256-bit-codering
Klantenservice beschikbaar
Meld u aan voor een zakelijk account
Waarom kopen?
Collision Detection & G-Sensor
Parking Monitor
Full 1080p HD Display
Sandisk 16GB Memory Card Included
Premium Design
Easy Installation
Omschrijving
Collision Detection & G-Sensor
Crafted with the latest technology this camera's built-in G-sensor measures your vehicle's movement across three axes. This means that if your vehicle is involved in an incident, then there's a higher degree of accuracy as it'll show the exact movements of your vehicle at the time of the incident. If sudden movement is detected, the footage automatically starts saving.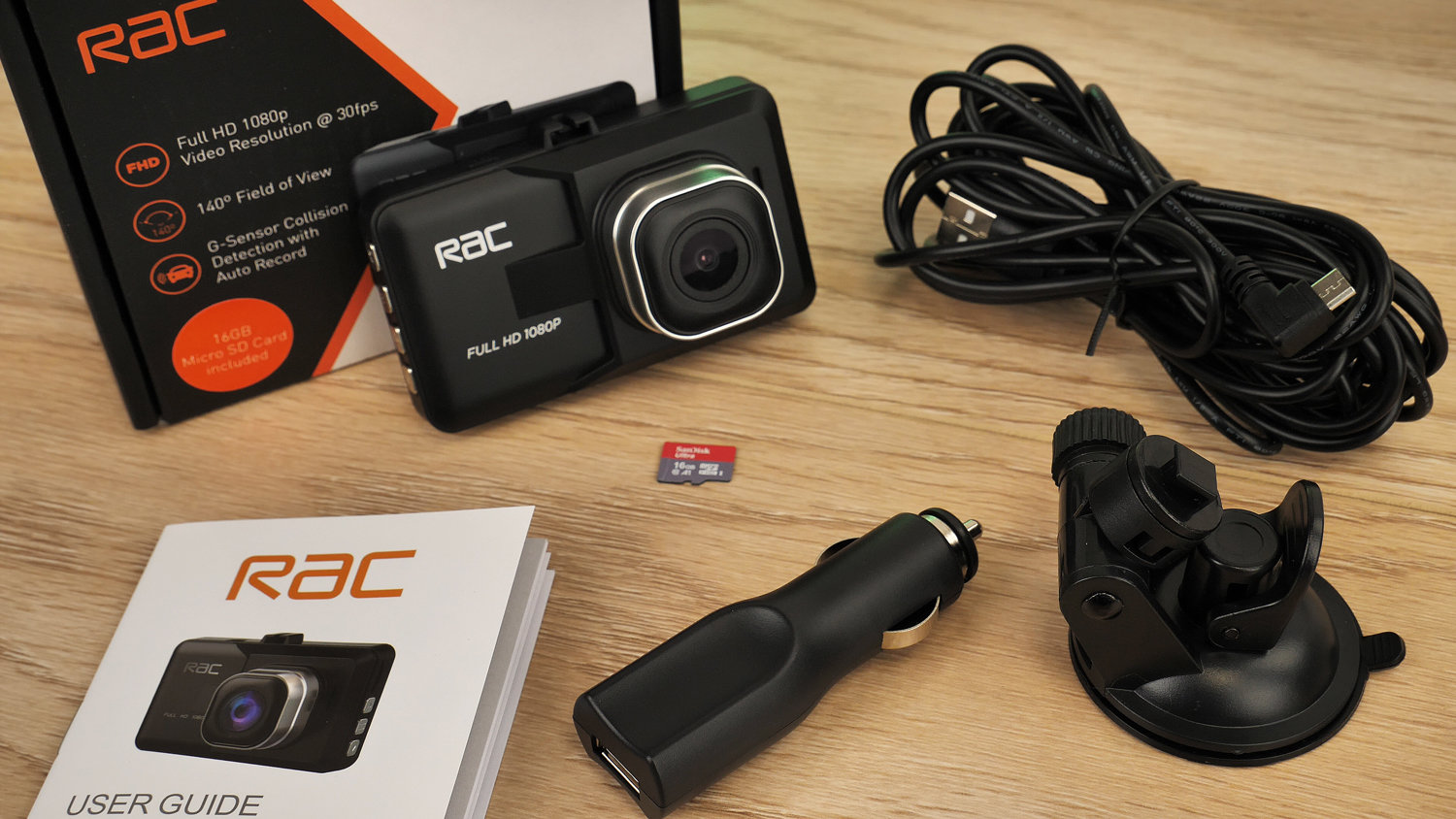 Parking Monitor
Even if your vehicle is parked up, any bumps or scratches on your vehicle will trigger the camera to instantly start recording so that you can pinpoint exactly what happened, and how it happened. This is ideal for situations where other motorists fail to leave a note of their details on your vehicle, meaning the event is documented even if you don't see it yourself.
Full 1080p HD Wide Scope Display
The RAC 3000 records in full 1920 x 1080p HD at 25 frames per second. This means that even the smallest details are seen in each recording, meaning that should you be involved in an incident then you have high quality and clear footage. Its 140-degree field of view provides a wide scope of view of the road ahead, massively increasing the chance that you'll capture an incident if one occurs.
Sandisk 16GB Memory Card Included
Ready to go, the RAC provides everything you'll need to start recording your journeys. Included with the R3000 Dash Cam is a high end 16GB Micro SD card from renowned memory providers SanDisk that will allow you to record your journeys in full high definition, providing you with time-stamped evidence should you ever need it. The RAC R3000 features collision detection safeguarding the impact recording, while standard journeys are overwritten automatically to allow for continuous recording.
Premium Design
The R3000 Dash Cam has been crafted with a premium and sleek design to enable you to place it in the perfect position without it getting in the way of your driving vision, enable safe and secure driving. The design allows the R3000 to blend in with your interior and not being big and bulky.
Easy Installation
Installing the R3000 couldn't be easier thanks to the included windscreen mount, extra-long cable and car charger, as well as the easy to use menu interface, allowing you to get up and running within a matter of seconds.
Features:
- 3" Display
- Premium design
- Full HD 1920 x 1080p@25fps video resolution
- 140-degree field of view
- Collision & parking monitor with G-sensor
- Loop recording, time & date stamp
- 4G lens for excellent picture quality
- Support micro SD card max. 32GB, class10
Accessories Include:
- Extra-long 3.5m cable car charger
- Suction mount
- USB 2.0 car charger
- 16GB SD card
Je Gegevens
Bezorging & amp; uitslagen
Verzending via Standaard Post: 0 euro
Een voordelige ongetraceerde optie met goede prijs-kwaliteit verhouding, geschikt voor bestellingen die minder dringend zijn. Geschatte levertijd is 4 tot 8 werkdagen. Het aantal werkdagen gaat in 1 dag na de verzending.
Verzending via tracked mail service : 7,49 euro
Geschatte levertijd is 3 tot 4 werkdagen. Het aantal werkdagen gaat in 1 dag na de verzending.
DHL Express: 12,50 euro
De DHL Express optie wordt standaard geselecteerd voor bestellingen van meer dan 60 euro. DHL levert niet in het weekend, bestellingen geplaatst op vrijdag worden maandag bezorgd.
Een snelle getraceerde bezorgservice die levert in slechts 24 uur.
Gegarandeerde bezorging 24 uur na verzending.